KING'S GLOBAL
ALUMNI COMMUNITY
The impact of giving
Over the last year, thousands of alumni have supported the heart of our community – our bright students.
You have helped to clear the hurdles in their way – whether through providing vital scholarships and bursaries to support those facing financial difficulties and at real risk of dropping out, giving teenagers from disadvantaged backgrounds the confidence to apply to a world-leading university like King's, or ensuring ambitious students are able to take up the work experience that is so vital to their development and future careers. Meet some of the amazing students who you have helped take the next step in their academic careers and find out how your support takes our vital research to the next level.
Changing lives one student at a time
Graham
Graham took part in K+, which is a two-year widening participation programme run by King's. It is designed for Year 12 and 13 students in London and some parts of Essex who have the potential to go to the best universities in the country but need support to get there.
'I'm the first person in my family to go to university, which meant my parents had no idea what university involved, and I couldn't go to them for help with my application. My tutor at school knew that I wanted to study medicine and told me about the K+ programme and said I had the GCSE grades that were required. I didn't really expect to get in, because there were a lot of applicants, but I was very fortunate. The programme helped me with my application and gave me the skills you need when you start university. Thanks to K+, I was able to do a summer internship at the Royal College of Psychiatrists, as well as a week of work experience at a GP surgery and lots of academic workshops. Finding work experience is quite an important part of the application process for medicine – and, as someone who doesn't have any family members in healthcare, it would have been really difficult to find that without the support of K+. I was able to talk about the work experience a lot in my university interviews; it really strengthened the whole reason why I wanted to study medicine. In the end, I believe it's what got me my place in medical school. The K+ programme and the financial support provided when you get to King's really helped me. It allowed me to fully focus on my studies with the peace of mind of knowing that finances weren't going to restrict me. When a donor gives financial support to students at King's, they are really investing and showing faith in that person. I feel so grateful that someone believes in me and allows me to reach my full potential at university.'
Poppy
Poppy took part in King's Civic Leadership Academy (CLA), which offers students and community partners an opportunity to work together to address some of London's most complex issues in local communities.
'I found out about the CLA when I was looking for work opportunities. I really wanted to get experience working in the charity sector, but that is something that is not widely available, especially when it comes to paid work experience. What I love about the CLA is that it comes with a lot of support and a whole team looking out for us. That's why I always say that, if I could have designed any kind of programme at university, it would be the CLA. It has everything – every aspect that students need. After an inspiring week of training over the summer months, I started work with my partner charity. You could tell that the organisation had put in so much work to prepare for our arrival. They made me the Research Captain of a project where I could incorporate my experience from my geography degree. The organisation wanted our perspectives and opinions and valued me as a student, who they knew often worked in underpaid jobs. Before starting the CLA, I didn't know how to communicate with people in a professional workspace and found public speaking or the idea of putting my hand up in a meeting absolutely terrifying. My experience taught me that it was ok to use my voice and that my views were valid. It meant my confidence grew massively and it gave me the direction to try and be a changemaker in my community who lifts up other voices. Now I am applying for graduate jobs and, thanks to the CLA, I now know the kind of company or organisation I want to work for. A massive thank you to everyone who made the CLA possible, because it has been the highlight of my time at King's. Your funding allows 50 students a year to create grounded, considered change. It widens students' perspectives, teaches us how to be supportive and confident, and provides long-lasting opportunities. It's the perfect cycle of sustainable change. Thank you.'
Research – Transforming the way we study and treat cancer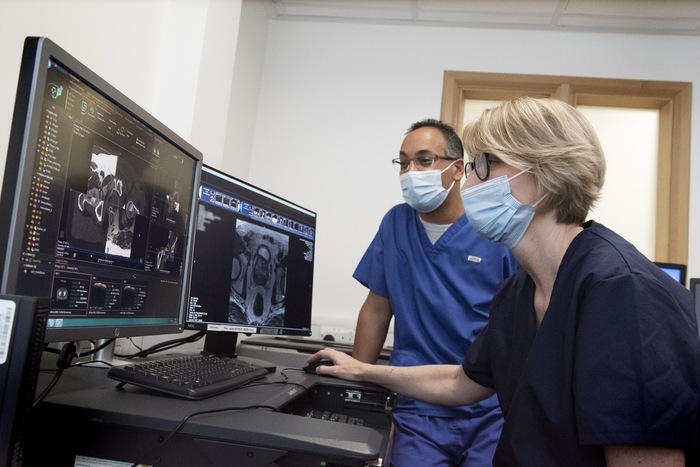 Dr Anthony Kong is a Reader and Honorary Consultant Clinical Oncologist, with a particular interest in personalised medicine, translational research and clinical trials. He is one of King's leading researchers in head and neck cancer (HNC). Some of his current work focuses on growing mini three-dimensional cancer tumours derived from patients in the lab that could revolutionise the study and even treatment of HNC. In fact, he and his team are developing the UK's first biobank of these HNC tumour organoids.
Currently, there is no easy way to know which tumours will respond to which treatment, meaning people with cancer often receive a range of treatments that may or may not be effective. Research in the lab can be helpful in understanding the reasons some cancers respond, while others don't. However, until recently, many cell-based lab models have been based on two-dimensional layers of cells. These have helped to drive life-changing research, but there are limitations in their ability to mimic complex tumours and understand things like drug resistance or how a cancer will progress. Dr Kong's three-dimensional tumour organoids could signify a distinct shift in finding new and more personalised ways to treat HNC. Because these organoids are produced from samples from an individual's cancer and are grown in 3D, they better mimic how tumours behave in the human body and could help to predict someone's response to cancer treatment in real-time. They will also become a vital tool in testing new treatments, such as immunotherapy or hyperthermia (heat treatment) or their combination – which harness the power of the immune system and turns it against the cancer. Researchers could even find them useful in predicting which tumours are most likely to recur after treatment – meaning any recurring cancers could be caught earlier.
Ultimately, Dr Kong and his team hope their HNC organoid biobank will fuel research and move us towards a day when these mini-tumours become part of routine care – helping clinicians to make informed, tailored and real-time treatment decisions for each patient, giving every cancer patient the best chance of survival with the fewest possible side effects. This project could help transform the study of HNC and the care of people with the disease and could also help inform work in other cancers. Like so many research projects across King's, ongoing funding is required to help them fully realise their potential. Thank you to all donors who have supported King's research in the past year – you are helping ensure projects like these can continue, driving life-changing impact for people all over the world.